The Om page has moved to a new server at: ompage.net
Please go to & bookmark the new location.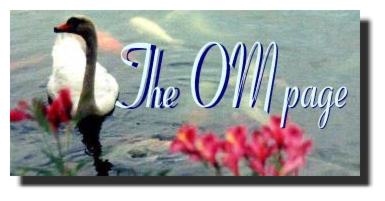 | | |
| --- | --- |
| Photos of SRF Pilgrimage Sites | Kansas City Meditation Group of SRF |
| Excerpts from Great Souls | Self-Realization Fellowship Links & More |
| Some of My Thoughts | Humor |
| Family Photos and Links | What's New |

| | |
| --- | --- |
| Jesus Christ & Bhagavan Krishna | Swami Yogananda in Kansas City, 1932! |
| Pilgrimage to Babaji's Cave | SRF Trivia Contest |
| Rajarsi Janakananda (J. J. Lynn) Index | Java-powered image of Golden Lotus Arch |

I practice a sadhana that is taught by Paramahansa Yogananda through the written Self-Realization Fellowship (SRF) Lessons. These lessons teach a balanced lifestyle of Kriya Yoga meditation and outward activity. I am a participating member of the Kansas City Meditation Group of SRF. I have photos related to Rajarsi Janakananda (J.J. Lynn). I have links to other devotees of Paramahansa Yogananda, Yogananda Devotee Chat, photo albums of SRF holy sites, my family photo albums, and some of my own thoughts. My spiritual life is non-sectarian and dedicated to Heavenly Father, Mother, Friend, Beloved God, Jesus Christ, Bhagavan Krishna, Mahavatar Babaji, Lahiri Mahasaya, Swami Sri Yukteswar, Paramahansa Yogananda, and saints of all religions. Om Guru, Om Peace Amen.
To receive an information packet on the Self-Realization Fellowship (SRF) Lessons, which include meditation instruction and Kriya Yoga, click on this link.


Click here or on the portrait to order the Life-Size Fine Art Lithographic Print
that is shown above. Suitable for framing. (The image above is cropped.)


At this link, Le Mar Fine Art has original paintings inspired by the Self-Realization Fellowship Lake Shrine.


James J. Lynn, Rajarsi Janakananda, was a Kansas City businessman who met Paramahansa Yogananda in 1932. Mr. Lynn became one his chief disciples and later succeeded Sri Yogananda as President of SRF. Paramahansa Yogananda said that J.J. Lynn advanced quickly to the state of a "siddha yogi" because he knew how to listen. His Guru gave him the monastic name of Rajarsi Janakananda.

Sri Daya Mata has been President of SRF since 1955. One of the first women to lead a world-wide religious organization and monastic order, her tenure is only exceeded by the Dalai Lama.

Visit Allan Smith's

Translate this page into 25 different languages.

---
After looking around, fill out a form and let me hear from you.
---
Check back again; Will add more.
This page established January 2, 1998.
Last updated on
April 10, 2000.
Email: Admin@ompage.net
---

---


This WebRing site is hosted by Douglas F. Couch
Want to join The Sweet Love of Paramahansa Yogananda - WebRing? Click here
--Navigate the WebRing--
[Previous] [Next] [Next 5 Sites] [Random] [List Sites]
---
---
---
---

---
[hOMe page] [Spiritual Photo Albums] [Devotee Chat] [KCMG of SRF] [Excerpts]
[Spiritual Bookmarks] [Thoughts] [Humor] [Family] [What's New]
---